I cannot believe that Thanksgiving is NEXT WEEK. Wasn't it just Halloween? It's definitely a busy time of year and I have a feeling that the reminder of 2017 is going to just fly by. That seems to happen every year, don't you think? Especially since these end of the year holidays are lumped so close together. (A menu planner is a great help for this busy time of year.) We typically spend the Thanksgiving and Christmas holidays at my parent's house in Illinois. My mom is an excellent cook and host so it's definitely a win for me not having to do all the cooking for the family. I usually make some Thanksgiving side dishes to complement my mom's tasty main dish. With the holidays coming up so quickly, that means I'm on the hunt for some new Christmas casseroles to create for our family gathering. After all, casseroles are just so easy to make! This year I'm thinking that many of these make ahead Christmas side dishes will be perfect to serve for Christmas AND Thanksgiving. There are even many Thanksgiving casseroles that would be perfect to prep the night before.
10 Make Ahead Christmas Side Dishes
This busy time of the year doesn't have to be stressful. All of these side dishes can easily be made ahead of time. So you can focus on what's truly important this holiday season… Spending time with family and not stuck in the kitchen the entire day.
Don't miss any of the other delicious recipes on Seeing Dandy!
Subscribe to the Seeing Dandy newsletter.
Follow Seeing Dandy on Instagram.
Follow Seeing Dandy on Facebook.
Follow Seeing Dandy on Pinterest.
Christmas casseroles and also perfect Thanksgiving side dishes, too!
Low Carb Gluten Free Green Bean Casserole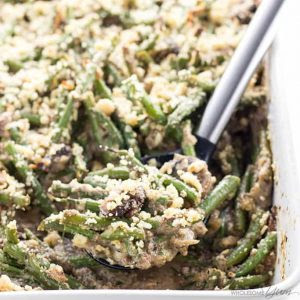 Yellow Squash Noodles and Cheese Casserole
Cajun Green Beans with Sausage
Cauliflower Gratin, Low Carb Gluten Free Side Dish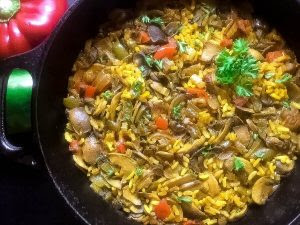 Skillet Roasted Brussel Sprouts with Creamy Garlic Sauce
Sugar Free Sweet Potato Casserole
Have a very Happy Thanksgiving with these Thanksgiving casseroles!
Be sure to check out the other delicious recipes on the blog HERE.
Be sure to follow Seeing Dandy on Instagram HERE and on Facebook HERE.


SaveSave