I love New York. Absolutely LOVE it. Seriously it's one of my favorite cities. The Big Apple is such a vibrant and alive place with so many beautiful things to see. In many ways it reminds me a lot of London. The city across the pond will always have my heart so New York City is my favorite in the US. If you've never before been to the NYC then I highly recommend it. It's such a history rich in history and the arts. My favorite thing to do in New York? Taking in a show on Broadway. There are so many good shows and exploring in Times Square can be done at all hours. It's always amazing to me how lit up that area is even at midnight. Definitely a fun city to see at least once but I would recommend more than once. Naturally I was ecstatic to learn that BookCon would be there in June AND there's a dandy New York City trip giveaway from Penguin Random House going on right now!
Enter To Win: New York City Trip Giveaway
This giveaway sounds fantastic. One very lucky winner (and a guest) will receive the full BookCon VIP treatment that includes:
(2) VIP passes to BookCon June 2nd & 3rd (which means you get a private autographing session with two authors and more!)
(2) round-trip flights to New York City
A two-night hotel stay
(2) BookCon swag bags with advanced reader copies & more
Dinner at Becco, a Lidia Bastianich restaurant
*Please note that air travel/full voucher is NOT included for New York residents.
ENTER TO WIN HERE
How amazing would it be to win that trip?! So many things to be able to do at BookCon plus VIP treatment.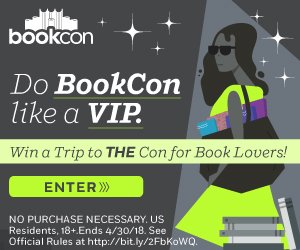 This giveaway is open for entries until April 30th so be sure to enter to win before time runs out!
ENTER TO WIN HERE.