School is officially out for the summer! Woohoo! The last day for my kiddos was Wednesday. So now it's just time for some lazy summer days. With the occasional exploring. Because exploring is the best. We are headed to the lake tonight for the holiday weekend. Cannot wait. (Be sure to follow along on Instagram to see all our adventures at Lake of the Ozarks.) Also in preparation for summer I've been looking back at some of our family vacation ideas. Mainly because we are doing at least one of the trips again this summer. There are just so many great places to visit as a family. Here are just a few places that I think are perfect for family travel and even multigenerational travel. I hope the list helps you with your own summer vacation plans. Oh and be sure to enter to win an Expedia gift card at the bottom of this post. A great way to help with those travel plans!
5 Family Vacation Ideas Perfect For Summer
There are so many other places that I recommend visiting so I'll have to definitely do another blog post to give more suggestions! Here's my short list of trips that I consider to be family friendly:
Lake Powell Vacation
We go to Lake Powell every summer. This year we will be headed there in August. It's a family trip and our kids love spending time with their cousins. Our trip always consists of staying on a houseboat but there are lots of options for vacationing there. You can camp, stay in a hotel (and drive down to the lake), stay at the Wahweap resort, and of course rent a houseboat.
Disney Vacation
We are major Disney fans. Keep in mind that summer is busy at the land of mouse but it's still just as magical. A great place to vacation as a family! Plus there are always fantastic Disney travel packages to choose from.
Beach Vacation
Kids love the beach and there are so many different types of beach vacations to choose from. Spend the day playing in the sand and splashing in the water! Definitely a win for summer vacation.
San Antonio Vacation
There are tons of cities in Texas that are perfect for family travel. We love San Antonio. It has a special place in my heart. I have a post here on the blog all about what to do on vacation there.
Niagara Falls Vacation
Save
There are so many fun family things to do in Niagara Falls. It's just really beautiful place! A place that families of all ages can enjoy.
I hope you enjoy these family vacation ideas. Those are just a few of my suggestions. Stay tuned for more travel posts!
Be sure to enter to win an Expedia gift card HERE.
Save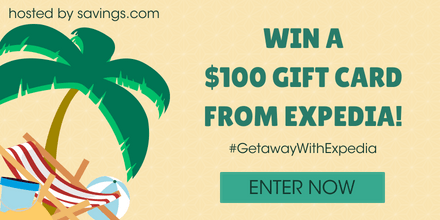 Good luck!
#GetawayWithExpedia Giveaway will be open for entries until Monday, May 28th at 11:59 PM ET.
Five (5) winners will receive a $100 gift card from Expedia.
Users enter the giveaway by heading to the Expedia page on

Savings.com

and submitting their email address on the form at the top of the page.
The winners will be chosen through a lottery drawing and notified on Tuesday (5/29) via the email address they used to enter.
See complete Official Rules for entry instructions, full prize descriptions, restrictions and other important details.
SaveSave
SaveSave