I'm a Macy's gal. Love that department store. Love. It. What's to love even more? Right now there's a #MacysFFSavings event going on. Plus, a Macy's holiday giveaway! The chance to win a $100 Macy's gift card… that's huge. Especially this time of year. Ever since watching the original Miracle on 34th Street as a little girl I've dreamed of going to the Macy's store in New York City during the holidays. Just to see all the decorations and I picture the store having the most perfect Christmas display in Holiday Lane. Now I've been to the Big Apple several times and went into that very Macy's store on those trips but I've never been for the holidays. One day.
I would imagine that the Christmas section of the big city Macy's would have many of the same decorations found at my local Macy's but better because you know, it's New York City. Here are just a few of the ornaments and decorations that caught my eye at Macy's.com:
***
***
***
Holiday Dinnerware (Only at Macy's!)
All of the above are also at major savings with the friends and family sale. Just use promo code 'FRIEND' at checkout. These offers won't last long so you gotta act fast to get in on all the deals HERE.
Offer details:
Extra 10-30% Off Most Orders
Promo Code: FRIEND
Free Shipping on Orders Over $99. Some exclusions apply.
Valid through 12/8/16
It's such great time of the year for deals and giveaways because remember that in addition to the #MacysFFSavings there's that Macy's holiday giveaway going on! Be sure to enter to win this dandy giveaway and tell you friends.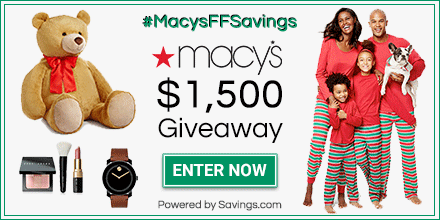 ENTER TO WIN THE MACY'S HOLIDAY GIVEAWAY HERE.
Tuesday, December 6th at 12:00 AM ET to Thursday, December 8th at 11:59 PM ET.
Fifteen (15) winners will receive a $100 Macy's gift card.
Users enter the giveaway by heading to the Macy's page on Savings.com and submitting their email address on the form at the top of the page.
The winners will be chosen through a lottery drawing and notified on Tuesday (12/13) via the email address they used to enter.
See complete Official Rules for entry instructions, full prize descriptions, restrictions and other important details.
Good Luck!
What's your favorite Christmas decor item at Macy's? Have a look around and let me know in the comments. I'm always up for chatting about the Christmas decor!