At our house Memorial Day signals the kick off to summer fun! All summer long we enjoy spending time in the backyard together as a family. I like our yard to be a safe haven for my kids and love for them to enjoy childhood. School is out for the summer so that means it's time for backyard fun that goes well into the evening. I've been researching some fun outdoor toys to enjoy this summer and figured that I would pass some of my finds onto you. Hopefully you will enjoy the following list of ideas as much as I do!
I've long been a fan of Melissa & Doug toys for my kids. The items are high quality, colorful, educational, and fun. We have tons of indoor toys from this dandy brand. But there are also so many fun outdoor toys. For that reason I decided to focus mainly on the summer outdoor toys that are available from Melissa & Doug. Enjoy!
5 Outdoor Toys For Family Summer Fun
All of the following items and their respective images are from Melissa & Doug.
This set is adorable and easy for kids of all ages to enjoy.
Available HERE.
How cute is this bowling set ? Such a great way for families to enjoy time together in the backyard.
Available HERE.
You can never go wrong with this fun classic!
Available HERE.
What can I say? Kids love bubbles. There are so many fun bubble sets and more to be found at Melissa & Doug. I think this ladybug one is adorable. It's available HERE. You can see all the different bubble items HERE.
Here's a fun take on a classic game. Remember those disc ones in the 80's? Share the love with your kids now!
Available HERE.
And now for a fun SURPRISE!!!
SaveSave
SaveSave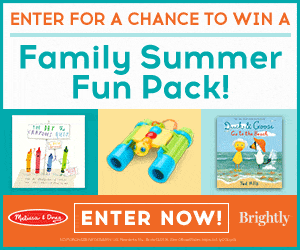 Enter to win a ultimate summer fun pack HERE.
Good luck!