Now is the perfect time of year to save BIG on family outerwear. Typically I like to buy our outerwear at the end of the previous season. That's how to get the best deals for the entire family. The deal is even better when you can score an EXTRA 20% off the clearance prices during the Macy's Weekend sale. I'm talking designer outerwear for well under $100. Here are just a few of my favorite outerwear deals that I think you should definitely check out.
Get this Ralph Lauren deal HERE. Get this Michael Kors deal HERE.
Get this Guess deal HERE. Get this Kenneth Cole deal HERE.
Get this Michael Kors deal HERE. Get this Calvin Klein deal HERE.
Get this Polo Ralph Lauren deal HERE. Get this Penelope Mack deal HERE.
Seriously something for the entire family is on major sale right now at Macy's. These weekend sales only come along so often so you have to jump at the chance when they do!
Which is YOUR favorite deal? How do you typically save big on family outerwear? Do you wait for a sale like I do? I'd love to hear your ideas in the comments!
If you are looking for an amazing price on outerwear then you gotta HURRY because these deals won't last long. This sale only goes through the weekend!
*Valid through 1/29/17
There are so many other styles that aren't pictured above. You'll just have to have a look around on the site yourself. *wink* And feel free to let me know in the comments which style you choose.
PLUS to go along with the #MacysWeekend there's a dandy giveaway that you can enter HERE.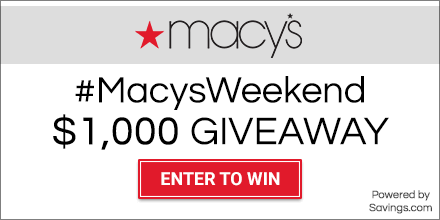 Be sure to share this deal/giveaway with your friends and family. They will definitely thank you.
Also check out my other Macy's related blog postings HERE.
Have a very dandy weekend!