It's a magical time of year! The time to get outside and enjoy the beautiful summer nights. Yay for summer family fun! This giveaway is a great way to get ready for all the adventures. The prize is definitely a dandy one! Read on to enter to win.
Summer Family Fun Prize Pack Giveaway
Summer is the time to get outside and enjoy all the moments together as a family. But there are also so many fun outdoor toys and books to read in the backyard. Grab a good children's book from Brightly and a few summer toys from Melissa & Doug and your summer is sure to be a fun one.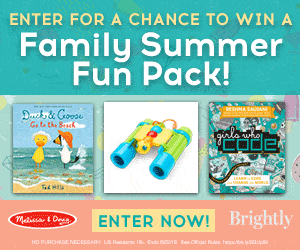 There are so many fun things to do during the summer. My kids are really enjoying taking part in the summer reading program that is from the St. Louis County Library. It fits quite nicely with this Brightly giveaway, too. Reading is so important to continue to do throughout the summer. A great way to prep for school in the fall. Be sure to get free printable bookmark on the blog HERE. It's the perfect reminder to read 20 minutes a day!
SaveSave
SaveSave
I absolutely love that both Brightly and Melissa & Doug are all about education for kids. It's so important to learn while having fun. This family summer fun pack is one that the kids will really enjoy. Parents, too!
What's being given away? A family fun prize pack that includes 50 brand-new books and $1,000 worth of Melissa & Doug toys! Now that's a dandy prize!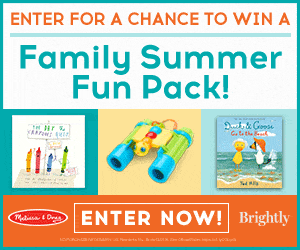 Giveaway starts on Monday, May 21st at 12:00 AM ET
Giveaway ends on Friday, June 22nd at 11:59 PM ET
Good luck!
Whatever you do this summer be sure to make it a dandy one. I know that we are already having loads of fun and it's not even truly summer yet. Kickoff summer with Brightly and Melissa & Doug!