Just picked my kiddo up from school so it's officially the weekend! Woohoo! What are you up to this weekend? Do you have big plans? I'm not sure what we are doing yet. The weather is supposed to turn colder around here. Not fabulous. We've grown too accustomed to the 70's in February. Perhaps the groundhog didn't have it wrong after all… If you find yourselves not able to enjoy the outdoors this weekend then it's the perfect time to check out the Super Saturday Sale at Macy's. But honestly. Does it have to be bad weather to shop? Probably not. It's always a dandy time to shop especially when there's a sale!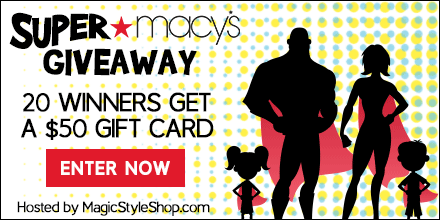 PLUS, there's a giveaway that you can enter to win up above.
Giveaway details:
Friday, February 24th at 12:00 AM ET to Sunday, February 26th at 11:59 PM ET.
Twenty (20) winners will receive a $50 Macy's gift card.
Users enter the giveaway by heading to the #SUPERMacys Giveaway page on MagicStyleShop.com and submitting their email address on the form on the page.
The winners will be chosen through a lottery drawing and notified on Tuesday (2/28) via the email address they used to enter.
See complete Official Rules for entry instructions, full prize descriptions, restrictions and other important details.
***
With the Macy's Super Saturday Sale you can get an extra 20% OFF most orders. That includes sale and clearance! Just use promo code 'SUPER' at checkout. Oh and there's FREE SHIPPING on order over $99. *Some exclusions apply and valid through 2/26/17.
So many great deals to choose from!
Happy Super Saturday Sale Shopping!
Don't forget to enter to win the GIVEAWAY that's part of the Macy's Super Saturday Sale. You can enter HERE.