Graphic tees are always a dandy staple for the back to school wardrobe. Hey they are even a staple in my own wardrobe. I love wearing a good graphic tee. Especially in the carpool lane. I'm all about the comfortable attire, friends! Here's my picks for the top graphic tees AND there's a major sale going on so this shirt I'm eyeing is only $4.90.
Cute right? And you all know that I adore the NYC.
$4.90 though? How is that even possible? It's possible because everything is an ADDITIONAL 30% off right now at Aeropostale!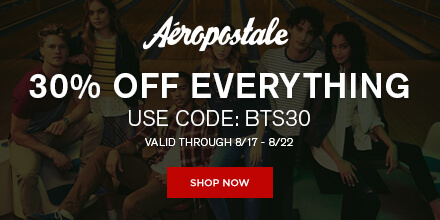 Such a dandy deal!
Oh and in addition to my top 5 there's also a really great giveaway going on so be sure to check that out at the bottom of this post.
Top 5 Graphic Tees
1.) Arrows are in.
You can get this arrow graphic tee HERE. Also only $4.90 and it's props to the Big Apple!
2.) Diamonds are a girl's best friend.
Get this diamond stamp shirt HERE for only $4.90.
3.) I love New York.
You've already seen this one but it's still just $4.90 HERE.
4.) Summer dreaming.
And it's… you guessed it. Only $4.90 HERE!
5.) Guy shirt.
There's also graphic tees for the guys and I love this color. Get it HERE.
So many dandy graphic tees to choose from. Now… for the GIVEAWAY that I teased you about. Right now you can enter to win 1 of 10 $50 gift cards to spend at Aeropostale.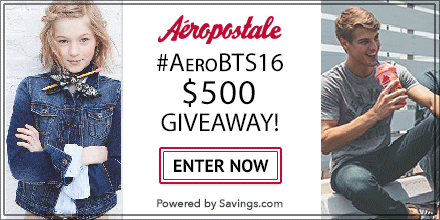 Enter to win HERE and happy 30% off shopping!
Good luck!